Hello, lovelies! Hope you had a chocolate-filled Valentine's Day 🙂
I'm so happy to announce that Candlewick Press has acquired my manuscript, SORA'S SEASHELLS! The deal announcement from Publisher's Weekly is below.
I get to work with brilliant editor Kate Fletcher, who edited Meg Medina's MERCI SUAREZ CHANGES GEARS — the 2019 Newbery Award-winning novel. (In case you didn't know, the Newbery is the highest literary award granted each year by the American Library Association for the children's literature category). In other words, I'm both nervous and excited about working with such an accomplished editor!
I've already received a set of edits from Kate, and her notes are so insightful, so sharp. I'm learning a lot just from studying her tweaks, how they improve overall pacing and flow. It's like a crash course on how to be a better writer. This appeals very much to me, because I'm a MAJOR NERD.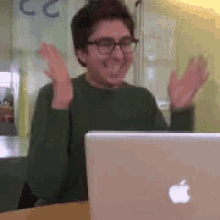 That's pretty much how I felt while reviewing Kate's initial editorial notes.
Ji-Hyuk Kim will be illustrating the book. He's a super talented artist based in South Korea, and I think the seaside scenes are going to be magnificent. I've seen his initial character sketches (done in watercolor) and they are SO beautiful. I can't wait to share them with you soon (my website subscribers will be the first to be notified — hint, hint). To get a sense of his work, check out his portfolio here.
And now, switching gears, here's a sneak peek of some sketches for THE PAPER KINGDOM (my second picture book), which will be released in 2020. Pascal Campion is the wonderful illustrator for that book, and you may be aware that he recently illustrated some covers for The New Yorker. Check them out on my prior post. Anyway, these aren't the final images, but they're absolutely stunning and so very vibrant…
My website subscribers will be among the first to see more news about my books and the first to get sneak peeks, and once I get my act together, I plan to send out (infrequent) exclusive subscriber-only newsletters with lots of fun and interesting stuff. If that sounds cool to you, feel free to subscribe using the button above, or via the Contact Page. And if you've already subscribed, you're in for a treat!